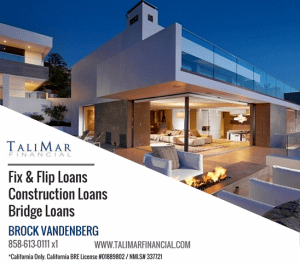 TaliMar Financial is the leading Southern California hard money lender for real estate investors. Our hard money lending platform is structured to service the needs of Borrowers that are seeking Fix & Flip, Construction, and Bridge Loans for both residential and commercial real estate.
Our Fix & Flip / Construction Lending programs will lend up to 65% – 70% of completed value and includes funds for the purchase, renovation, and carry costs.  Our underwriting process is fast so that our Borrowers can take advantage of opportunities quickly and its offers flexible terms. We work closely with the Borrower to develop a lending solution that will maximize the available funds for the project. We never have minimum interest requirements on our Fix & Flip / Construction loans.
The Bridge Lending Program TaliMar FInancial offers is an ideal lending option for Borrowers that cannot qualify for conventional financing due to asset/title issues, credit and/or cash flow factors, and/or need for a quick closing. We provide Bridge Financing on residential and commercial real estate.
TaliMar Financial has been funding hard money loans for over 12 years.  Our lending platform offers the flexibility many Borrowers require to obtain the financing they need.  Contact us today at (858) 613-0111 x1 or visit talimarfinancial.com to learn more about our hard money lending programs.